The Best Ranch Style Leather Recliners
Posted By: Adobe Interiors Times Read: 129 Comments: 0
The Best Ranch Style Leather Recliners by Adobe Interiors! We offer a variety of Fine Western Rustic Leather Recliners that are not only comfortable but extremely well built and very stylish! Our Fine Leather Recliners are all hand made in the U.S.A using the finest materials and construction techniques.
Check Out Our Top Selling Western Leather Recliner Designs Below.
Beautiful, natural tan leather, cowhide and embossed croc leather defines the Bronco Recliner. The bustle back on the Bronco Recliner provides amble he'd and lower back support. It boasts luxurious full-grain tan leather, tanned in Italy. The leather's deep, rich coloration is accented with bronze nail heads and features a stunning matte tone, indicative of its high quality and extensive detailing. A hardwood frame sits at the center of the chair, which also includes a high-quality reclining mechanism and premium high-density cushioning. This luxury recliner is ideally suited for use in any fine rustic sitting room or living room. It's indicative of the very best tenets of upscale Western design! This high-caliber chair is perfect for use in a ranch home or in a rustic country cabin. Its timeless and effortless elegance, coupled with its unparalleled comfort, makes it a perfect addition to any room where you feel the urge to kick back in maximum comfort. 100% Texas made to the highest standards of quality!
Beautiful, 100% top grain natural leather, the Cowboy Suela is an Adobe Favorite! A solid hardwood frame sits at the center of the chair, which also includes a high-quality reclining mechanism and premium high-density cushioning. We guarantee this is the most comfortable recliner you will ever own! 100% Texas Made!
Striking, simple and elegant, the Colorado Recliner is as steadfast as the Rocky Mountains and as dynamic as the mighty Colorado River. This beautiful, unique piece of furniture is an ode to the rustic elegant aesthetic of its namesake state. The Colorado Recliner features beautiful blue-tinted leather, echoing the rushing waters of the powerful rivers that course through the American Southwest, as well as striking bronze nail head accents that accentuate and complement the chair's simple, subtle design. Beautifully turned wooden feet bring just a touch of opulent detail to this inventive chair. This reclineris right at home among an upscale décor theme or can serve as the centerpiece for a developing one in your home. This is a subtle statement or accent piece that will accentuate your home's existing décor.
The Sundance Stone Recliner is rustic elegant in every aspect. This simple, stately chair offers all the comfort and convenience of a high-quality recliner with the body and frame of a high-end chair. This luxurious piece of furniture is made from the finest possible top-grain Italian leather, stretched over high-density cushioning and a hardwood frame. Bronze nail head accents serve to perfectly complement the deep, dulcet tones of the rich chocolate leather upholstery with striking embossed leather accents. The bustle back provides amble neck and head support. Thanks to its clean, elegant appearance, this piece pairs well with virtually any collection of furniture and any décor theme, instantly becoming a standout piece that you'll be proud to show off.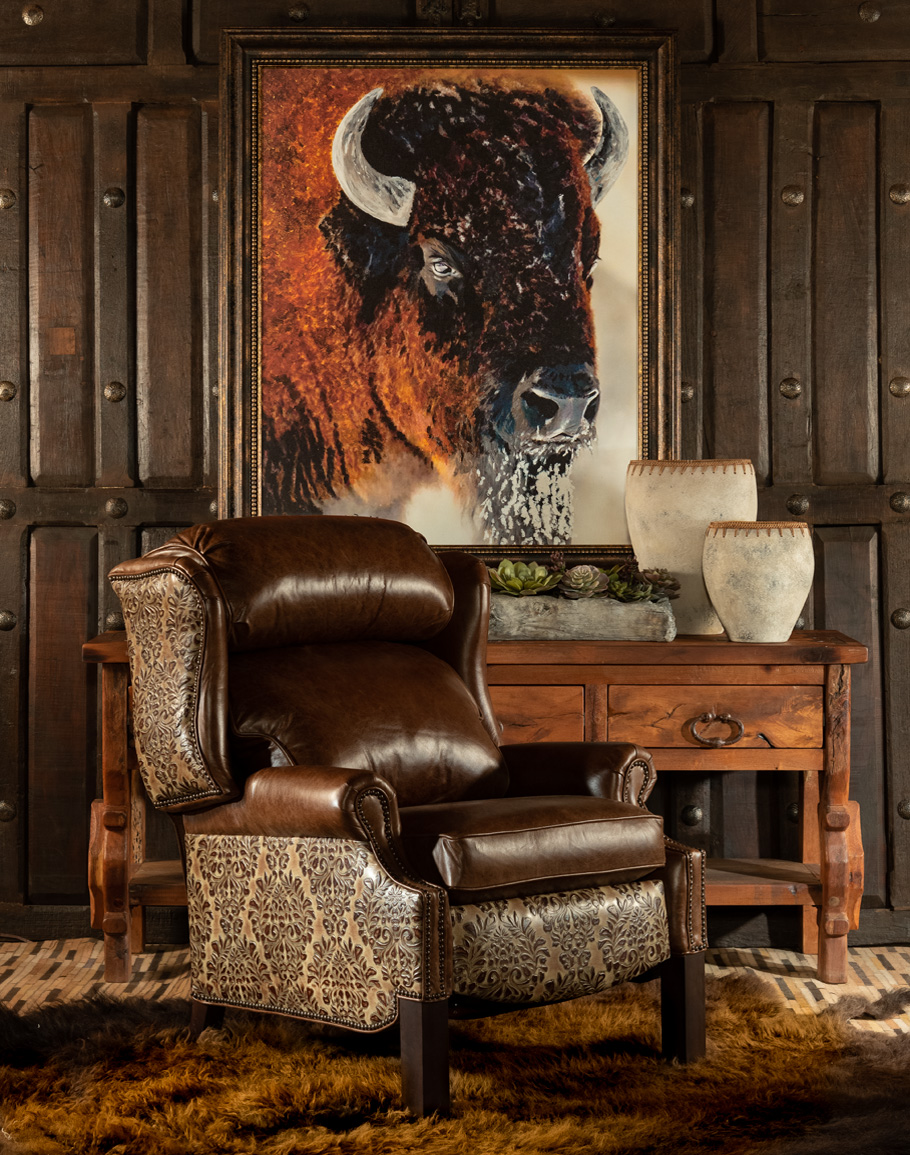 Related products