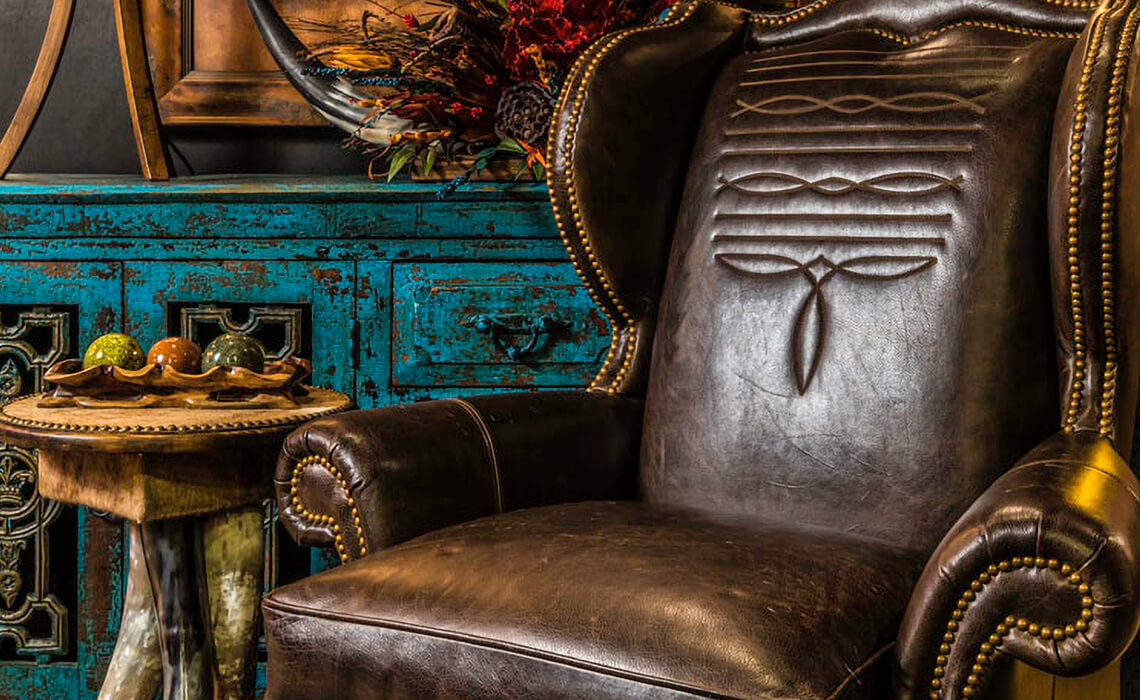 Rustic Accent Chairs that Make an Impact
Posted By: Administrator Times Read: 811 Comments: 0
Bring your living space to a new height of sophistication with the Del Rio Suela Chair. Featuring a genuine axis deer hide and a supple tan leather, this rustic, elegant living room chair merges natural adventure with studied design, resulting in a classic yet refreshing piece. The Del Rio Suela Chair can be placed in your living room, providing comfort whether you are entertaining guests or zoning out in front of the TV. Or it can be placed in your study, giving you the sturdy foundation to work for hours on end. You can even place this high-end chair in your office's reception area, providing your clients with a truly upscale experience. Wherever you place the Del Rio Chair, this Rustic Western style living room chair is one luxury you will never regret indulging in. Contact our skilled team today to learn more about our custom material options.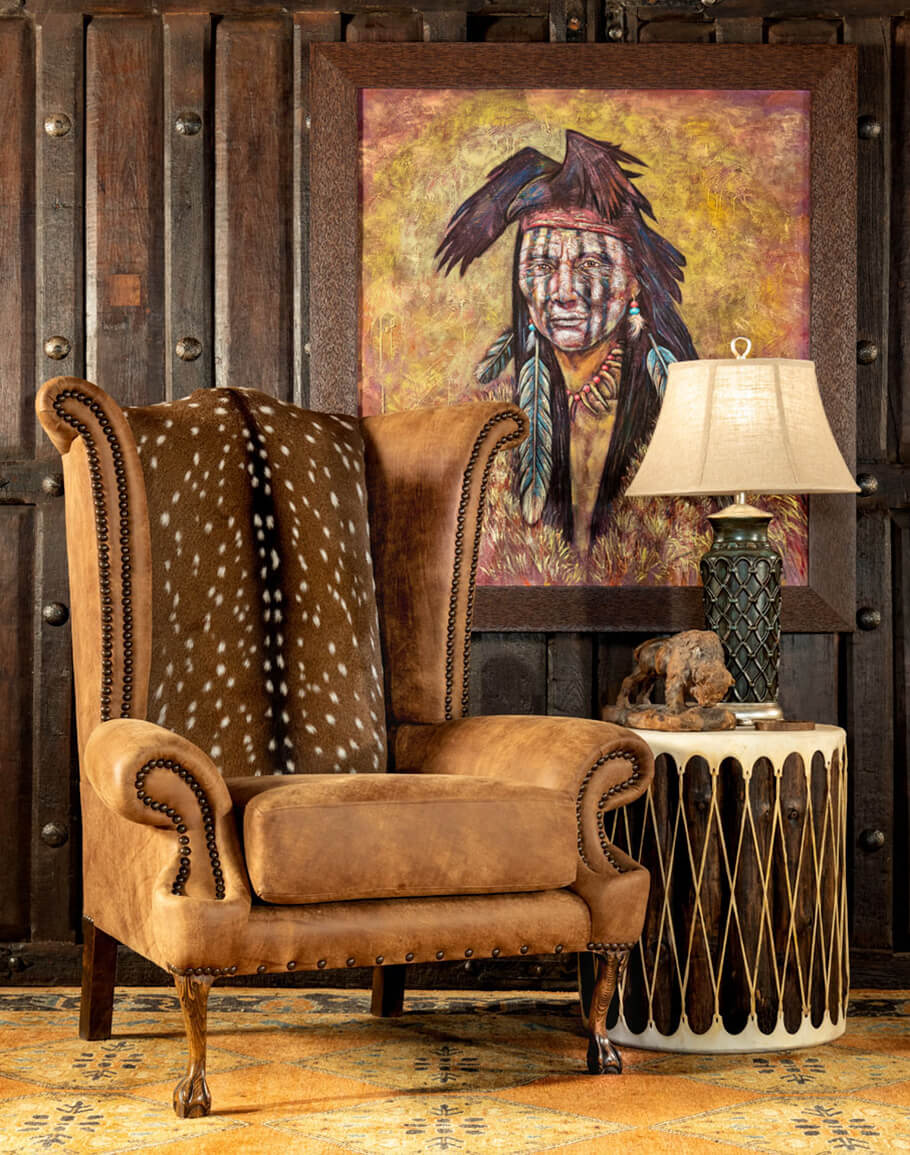 Every home needs that tried and true piece of furniture that you can look forward to relaxing in after a long, hard day. A living space also needs at least one stately piece that will impress guests and bring the aesthetics of the room together. We are proud to say that when you add the Boot Stitch Wing Chair to your living space, you will be checking off both of those boxes with one incredible living room chair. From the dark, rich leather to the intricate studding details, this quality Western style living room chair is a true statement piece. But it's also calming and comforting, offering sturdy construction and supple seating that you will not want to get up from. Add the tastefully timeless Boot Stitch Wing Chair to your home or office today. With beautiful design and reliable strength, this is one indulgence that you will never regret.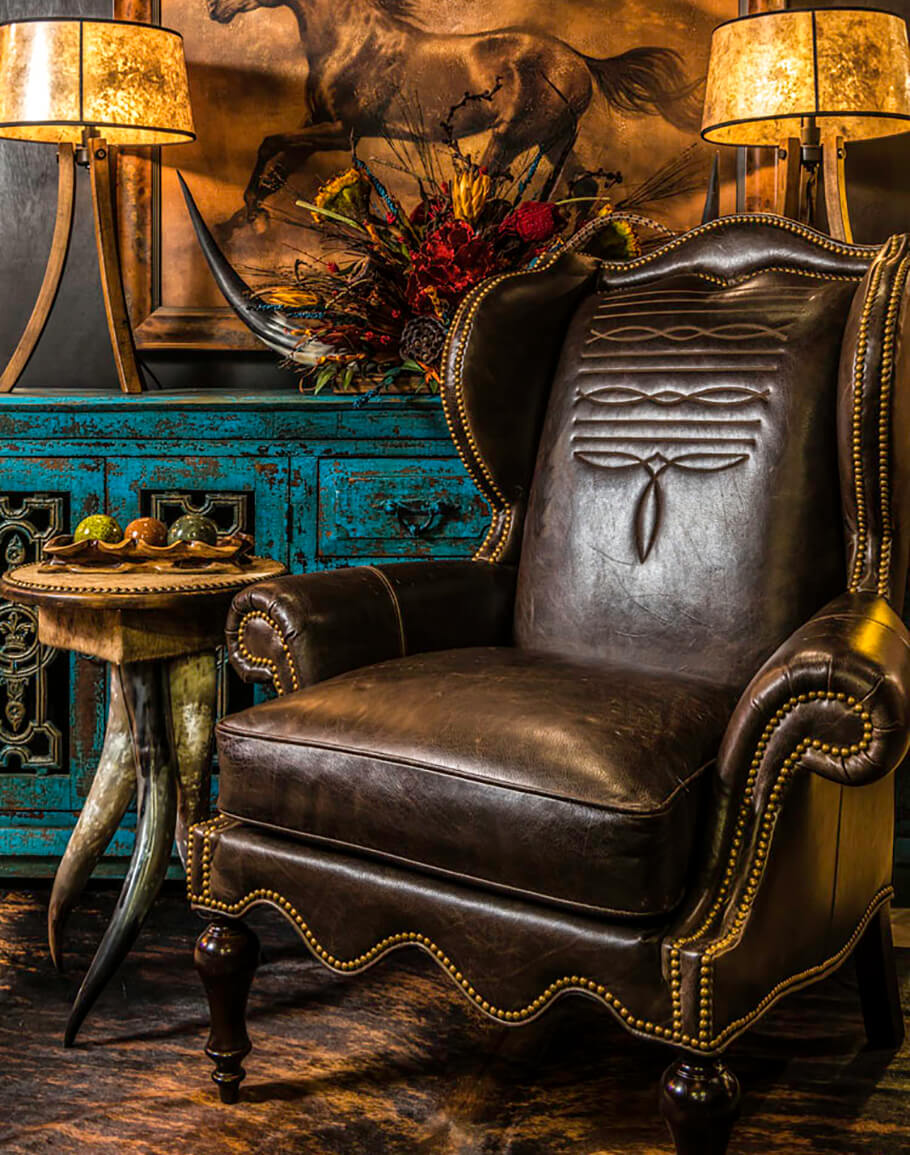 Bring a simple yet classy look into your home or ranch with our Ranger Leather Chair. Made with one the finest distressed leather and accented with genuine suede, The Ranger Leather Chair will be a lasting favorite and bring a rustic elegant charm into your home or ranch.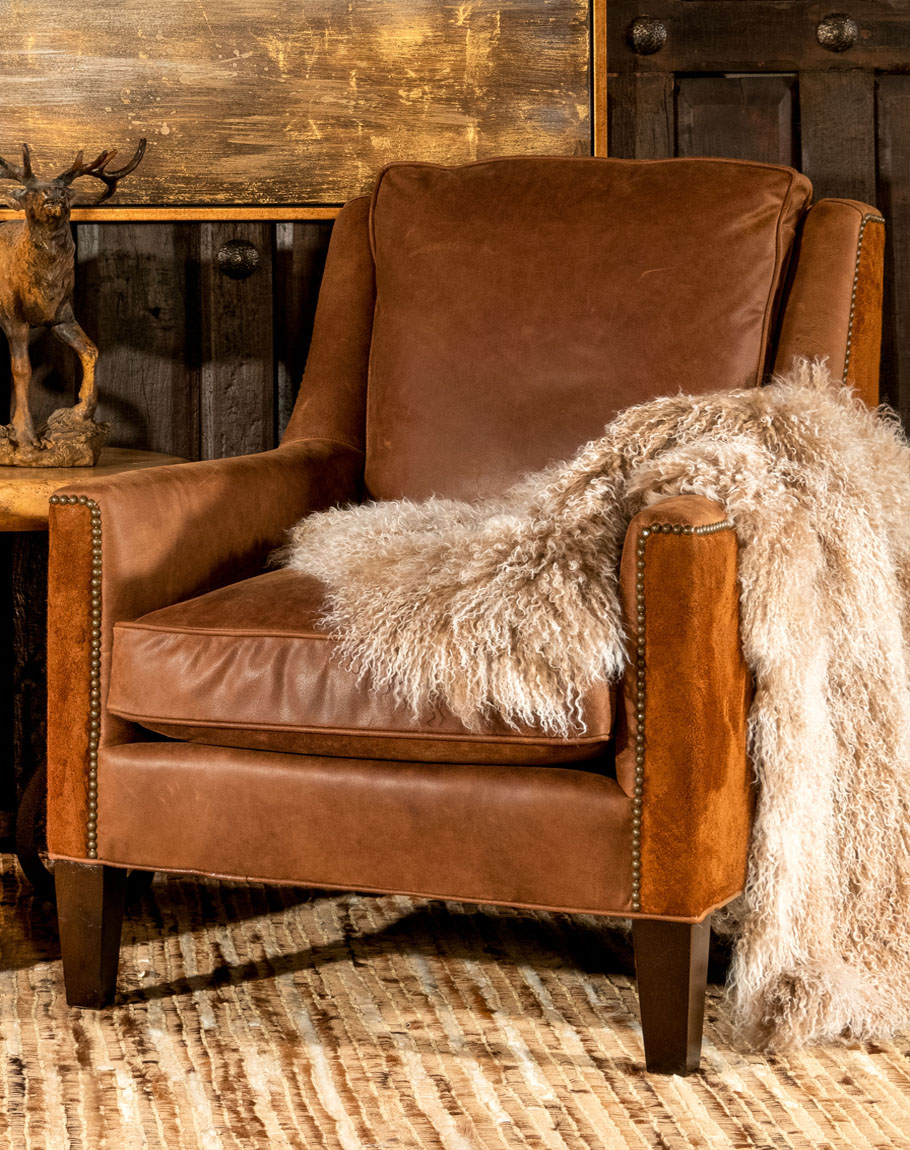 The Coleburn Chair is designed to look as good in a stately study as in a vibrantly decorated living room. Featuring genuine, supple leather, rich studding detail and a sturdy frame, this upscale living room chair is an instant classic — and classics never go out of fashion. Leather-bound books, well-aged whiskey and fine cigars come to mind when you look at the Coleburn Chair. And when you take a seat in its gloriously soft leather seat, all you will be able to think about is how comfortable you feel. All of that is supported by a hand-crafted solid hardwood frame, so you never have to worry about the dependability of this high end living room chair. Like a fine wine or expensive violin, the Coleburn Chair only grows richer and more enjoyable as time passes. Invest in this fine quality living room chair today, and reap the many benefits for years to come.
Perhaps you enjoy spending hours with your friends, family and loved ones, reliving old memories and creating new ones. Maybe you like to use your living space as a place to refresh with a good book or riveting television show. Or you might be someone who likes to mix it up every day with new faces and themes. Whatever you use your living room for, the Red Rock Chair could be an excellent addition to your collection. This quality living room chair is upholstered in a beautiful hand-rubbed leather, giving it a wonderfully distressed look. You can enjoy hours of comfort in this luxurious Western living room chair, whether you are enjoying a peaceful moment of solitude or in the company of loved ones. If you are in need of a new favorite high end living room chair, consider purchasing one — or perhaps several — of the Red Rock Chairs today.
If you are in search of the quintessential quality western living room chair, you need look no further than our Modern Boot Stitch Chair. With fine, supple leather, intricate detail work and a rugged panache, this high-quality living room chair will be right at home in your living space. Whether you are a true Western aficionado looking for your next authentic piece, or you want to liven up your otherwise simple home décor, the Modern Boot Stitch Chair will not disappoint. Our inspired designers combine the romanticism of the Wild West with the refinement and sturdy construction we use on all of our furniture, to create a rustic elegant living room chair that is as versatile as it is singular. Great in a set but bold enough to stand alone, the Modern Boot Stitch Chair will retain its strength and charm for years to come. Invest in one, or in a set, today.
The
Ranchero Chair
is an all time classic that gives timeless style and comfort. Featuring a hand burnished leather to achieve an aged patina in just the right places to reflect the aged qualities only time, wear, and frequent care could have accomplished naturally. The whip stitched arms and studded brass nail heads add that rustic feel while maintaining a modern design. The stylish looks and comfort of the Ranchero Chair is top of the line inside and out! Constructed with a hardwood frame and topped off with a high density foam cushion ensures lasting comfort and durability. 100% American Made to the highest quality of standards!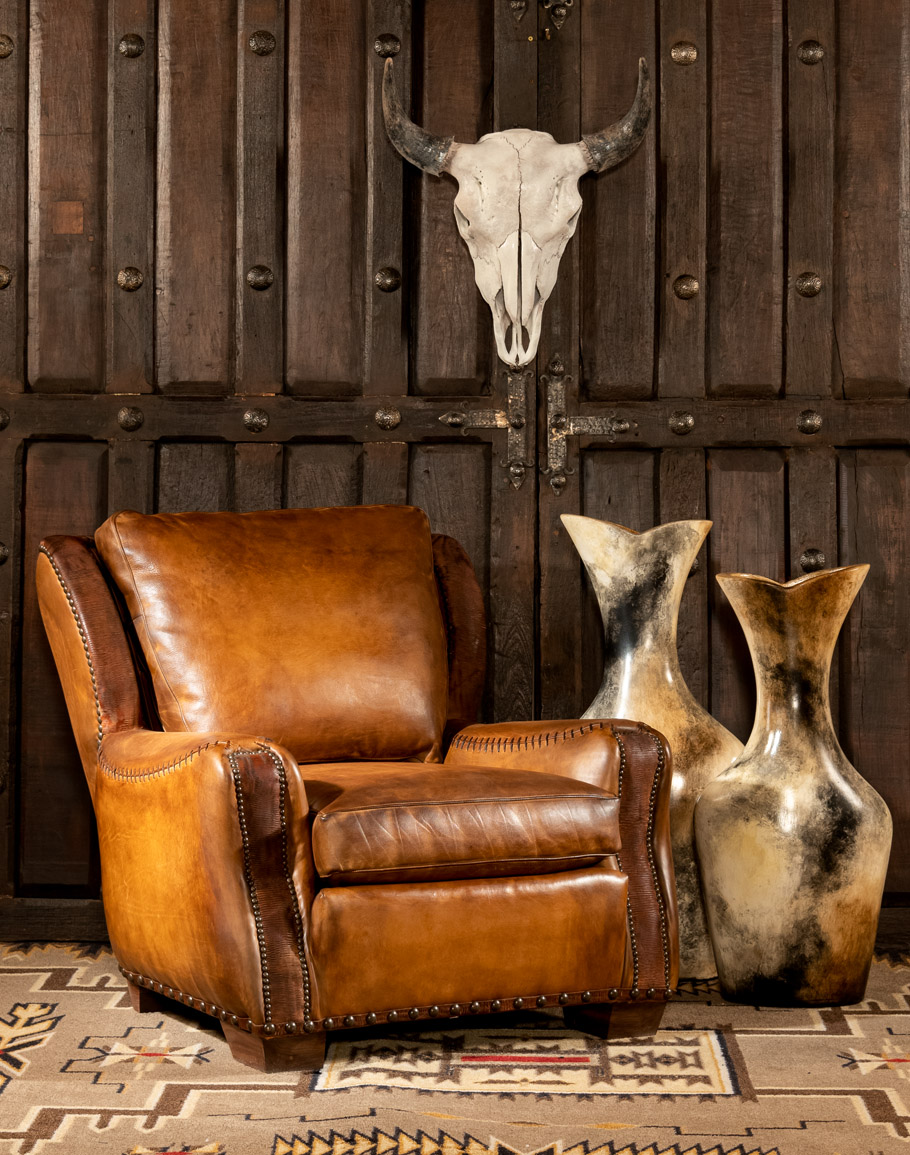 You'll love relaxing in our
Saddleback Sauvage Chair
. Its supple hand burnished leather makes you want to keep coming back. The Saddleback Sauvage Chair features an exceptional artisan leather tanned to the highest standards of quality. Artisan craftsmanship and comfort, appealing materials blend together to create a centerpiece of any fine décor scheme. The Saddleback Sauvage Chair is one of the most eye-catching pieces of living room furniture you will find! 100% American Made to the highest standards of quality and craftsmanship!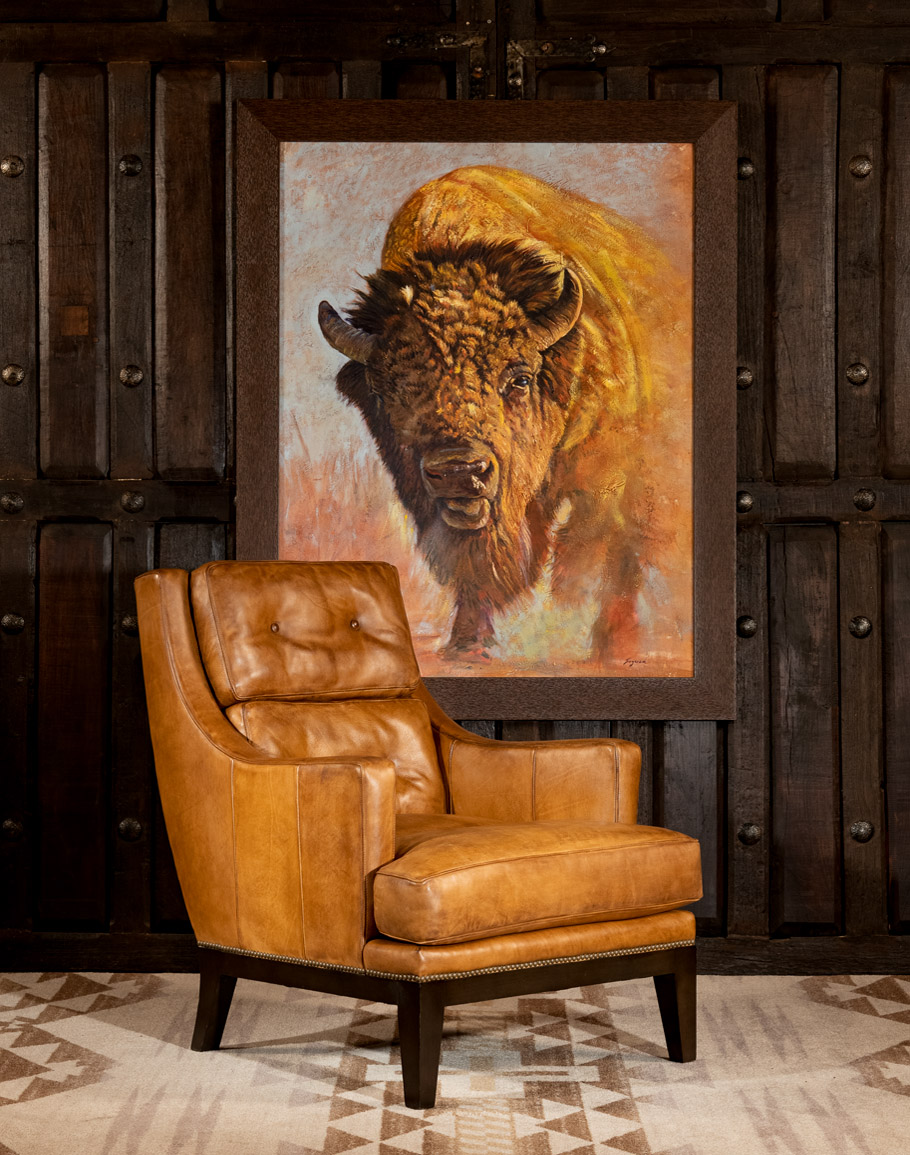 Related products